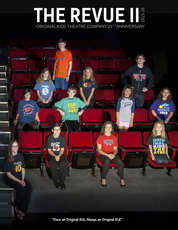 The Revue II
"The Revue II"
To commemorate our significant historical milestone, we will be publishing a compilation of Original Kids voices, memories, facts and experiences from the company's first 25 years.
Original Kids will love leafing through the pages of THE REVUE II, seeing photos of themselves and their friends, reading stories about funny things that happened on stage and off.
This magazine is packed with memories and heart and will be the something kids pull out of their trunk 10 or
20 years from now
, and remember the amazing things they did.

Parents will want to keep one, too, to capture the magic Original Kids shared with their children.
As you read the Original Kids story, we hope you will share in the company's sense of pride and accomplishment with every turn of the page!
Some highlights:
A beautiful, 54-page, full colour retrospective magazine.
A fascinating look at the history & origin of one of Canada's premiere youth theatre companies!
Sections cover all parts of Original Kids including: Camp OK, Kidlets, NYC trips, Alumni shows, Playfest, and more!
Featuring all of the headshots of the Main Cast members in the 2015 / 2016 season.
Over 50 behind-the-scenes stories from an array of productions from 1991 to today!
The full group photo taken at the Sept. 10 Kick-Off is the magazine's centre spread.