JENA McGILL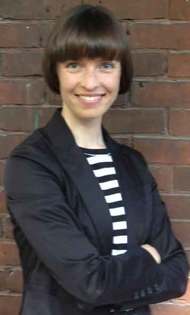 Current Field:
Education
Favourite Original Kids Show:
"Everybody is a Star" (with Art Fidler, 1995)
Current Job and Employer
I am an Assistant Professor at the Faculty of Law at the University of Ottawa, where I teach Tort Law, Constitutional Law and Human Rights Law to aspiring lawyers. I also conduct academic research, write papers and give presentations on various aspects of human rights and constitutional law.
What is one of your favourite Original Kids Memories?
I will always remember tap dancing in flippers as a "dancing seagull" in Pirates of Penzance (with Don Fleckser, 1995).
​
---
How did Original Kids impact you to where you are today?

I was a bit of a shy kid, and my years performing with OKTC helped me grow into a more outgoing adult. Rehearsing and performing with OKTC also provided invaluable lessons in the importance of preparation (memorizing lines, song lyrics and dance steps) and the value of teamwork, skills that I continue to draw on today.

What lessons did you take from Original Kids that you feel are still applied in your daily occupation?

From giving lectures to students to commenting on recent legal developments in the media, my job involves a great deal of public speaking. There is no doubt that my years with OKTC honed my speaking skills and developed my confidence being up in front of large groups of people. OKTC also introduced me to improvisation and the art of comedic timing, both skills I count on today when a lecture or presentation doesn't go according to plan!

An Original Kids Show Moment

The never-ending willingness of OKTC directors to give me vocal solos despite my truly terrible singing voice! Belting out the opening lyrics to Oklahoma, covering Annie Lennox in Girls to Women and trying to sing harmonies for duets in Grease and Godspell remain among the most nerve-wracking moments of my life! Even though my singing voice never improved, I was always proud that my directors gave me the chance to try (and try again)!
"Happy Anniversary Original Kids! Thanks to you I have an encyclopedic knowledge of musical theatre song lyrics and a lifelong appreciation for the arts. Wishing you another 25 years of success!"