EMILIE AUBIN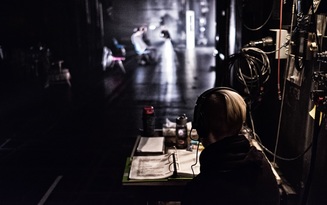 Career Field: Stage Management
Favourite OKTC Show: It's a three-way tie between Fame! Be Your Own Hero (1999), Anne of Green Gables (2001), and Les Misérables (2003)

Current Job and Employer:
In 2013, I joined the Canadian Actors' Equity Association as a stage manager. I am a freelance professional as both a stage manager and assistant stage manager, working in theatre, musical theatre, theatre for young audiences, opera, and multidisciplinary works. Work has taken me to the Stratford Festival, the Grand Theatre, the National Arts Centre, the St. Lawrence Centre, and to various theatres across Toronto and Ontario. Stage management is a position which requires logistical thinking (scheduling, record-keeping, information relay, calling and/or executing technical cues, health and safety considerations, etc.) as well as artistic thinking (creative problem-solving, providing artist support, calling and/or executing technical cues, etc.) There are a million tiny details in every production, and it is the stage manager's job to keep these organized to allow for a creative, supportive, and safe work environment.

---
What is one of your favourite Original Kids Memories?
The 2000-2003 seasons were a particular highlight as I was able to participate despite undergoing chemotherapy at the time. My then-directors Dale Hirlehey, Mel Kern, and Art Fidler all offered me a place in their shows and took great care in understanding my physical limitations, all the while offering me fun, challenges, and normalcy at a complicated time in my life. There have also been indelible friendships made through OKTC, which I cherish dearly. I had the great pleasure of being best man in the wedding of Oz Weaver, an OKTC alum, lighting designer, and Executive Director and Producer of The Dietrich Group dance company (Toronto).

How did Original Kids impact you to where you are today?
It was at OKTC that I first discovered stage management, and tried my hand at it on various shows. Additionally, OKTC offered me opportunities to work in various fields, including theatre administration (summer positions in the office with Georgina Smith), technical theatre (follow spot, lighting, and sound operator positions), directing (assisting Dave Conron), and teaching (assisting in the T.A.G. program with Jim Schaefer, Reg Malik, Sam Shoebottom, and Michael Teixeira). These various positions gave me insight into how many different careers are needed and possible in theatre, and gave me a well-rounded understanding of how it all comes together.

What lessons did you take from Original Kids that you feel are still applied in your daily occupation?
​Perhaps the most important lesson is about the families which grow when working on a show - they are incredibly important to the work. OKTC taught me that every individual on a production has value and the right to creative expression; this leads to rich work environments where you not only create great work, but you build strong bonds to other creative people. From my first OKTC show to shows I work on now, the creation of friendly, fun, and safe work environments remains the most valued and cherished part of any production memory.
"To all current, former, and future Original Kids: thank you. Thank you for being brave and trying new things. Thank you for being part of a team, honing skills, and giving your free time to creation and art. Thank you for supporting an important organization which offers creative outlets to kids who love it, kids who need it, and kids who have been looking for it. To all current, former, and future OKTC staff: thank you. Thank you for your time and effort is supporting and sustaining an organization which is vital." -Emilie Aubin
---